KAIHO TRUCK NET AUCTION
KAIHO offers convenience with real time online bidding available.
Trusted Brand / Worldwide Network
KAIHO SANGYO has been operating since 1969 and we are the leading company offering used cars,trucks and spare parts to 80 countries.
Easy way to buy with peace of mind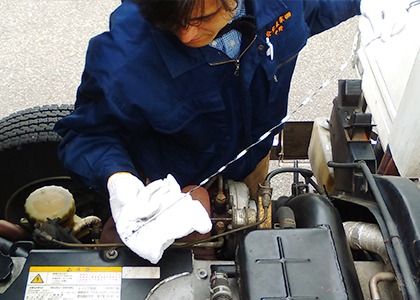 You can easily understand the quality condition of trucks at our auction with a lot of photos,movie and detail quality info.
Our original quality specification helps auction participants to understand condition of trucks to make their decision to bid or no to bid.
All suppliers of trucks to be sold at our auction need to receive the program for original strict inspection system at International Recycling Education Center (IREC),which we founded in April 2007.
You can bid from anywhere in the world with peace of mind.
1. Register
It all starts with registration.
Just provide your name,email address and other personal info,and create a user ID and password.
When you register as a KTN auction member you can bid on and purchase vehicles from all over the world.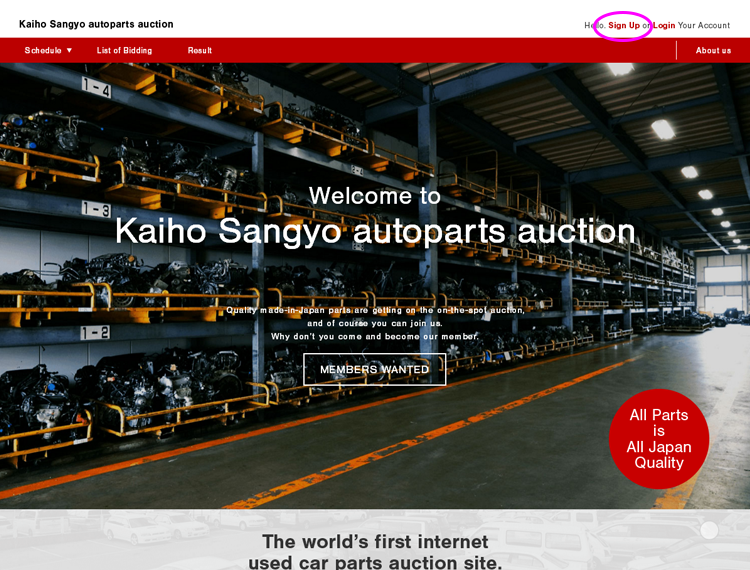 1-1.Enter your information
You'll be asked to enter your personal information (Name, Email, Phone Number, Company Name and Bank info) and to create a Password.
Regarding "Venue", you need to choose "Truck Japan" from the list.
Asterisk (*) must be filled in.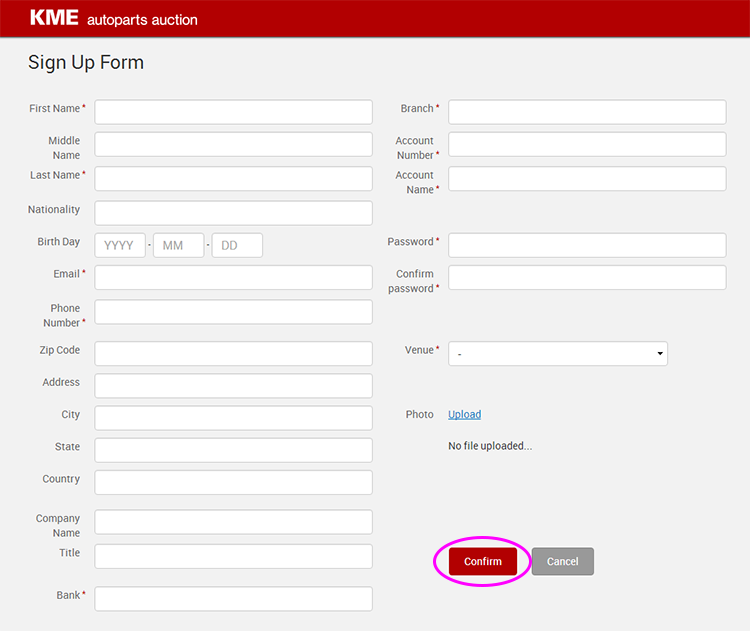 1-2.Review your confirmation
You'll see a confirmation message with your email address. If you would like to change or correct any of your information, just to contact us.
* Contact Customer Service
If you are looking for more help or have a question to ask, please contact us.
* After the registration, you need to submit the necessary documents and deposit security to KAIHO SANGYO. Otherwise, you are not allowed to bid on auction.You are authorized to bid on auction after all the procedures are completed.
2. Find vehicles to buy
You can find the vehicles that you are looking for.
2-1. Login
Open the top page of auction website and click "Login".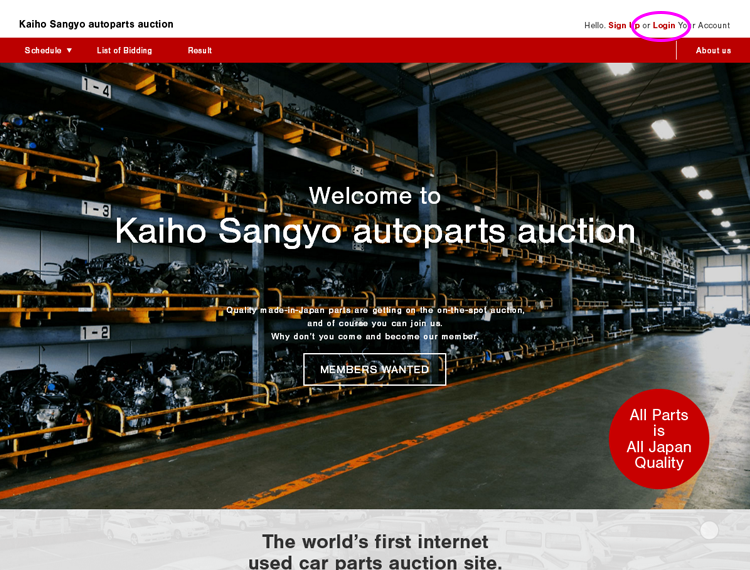 Enter "Email" and "Password" and click "Login".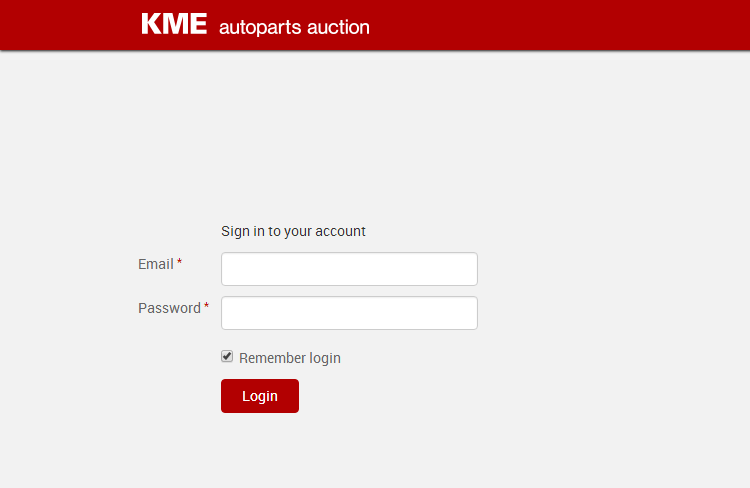 2-2. How to check Auction Schedule
Click "Schedule" and all schedule will be listed.
If you click "Open", "Arranging" or "Closed", you can check each schedule of auction status.
* The standard time used for our auction opening / closing time is Gulf Standard Time (GST).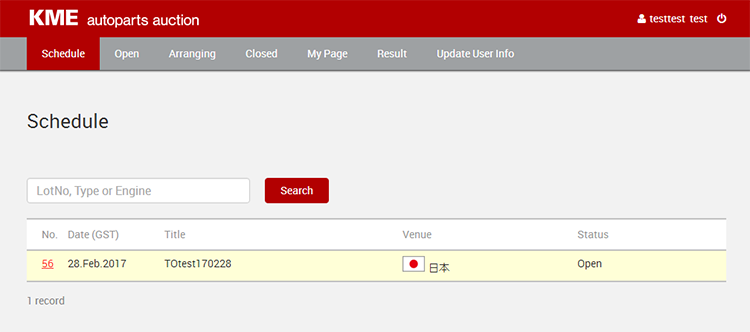 3.How to bid / Understand buying format
3-1.Open the list of Auction schedule.
Click the number of auction whose status is open.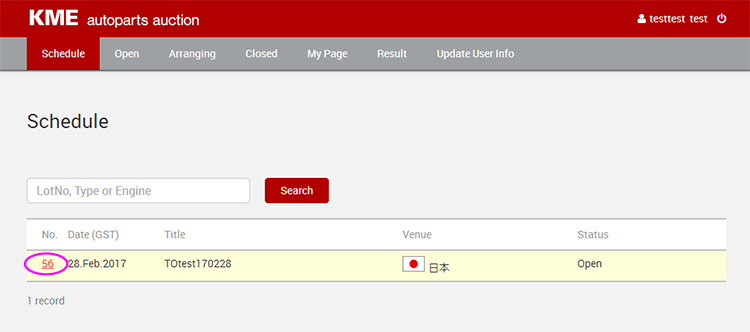 The goods you selected will be listed.
Enter your price (YEN) and click "Bid". Click "Lot No" to check further details of the goods.
* If you want to change or cancel your bid amount, you need to reenter the correct bid amount or 0 Yen.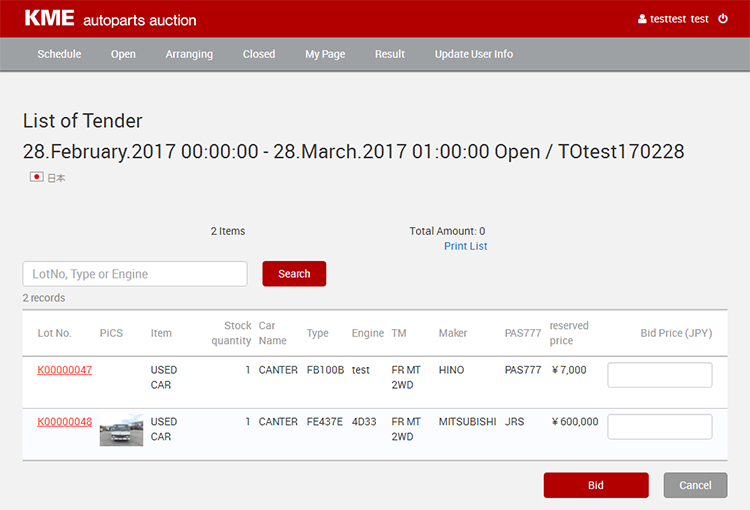 You can also make a bid on the screen of the goods detail.
* Regarding recycling fee, it is mentioned in the remarks column.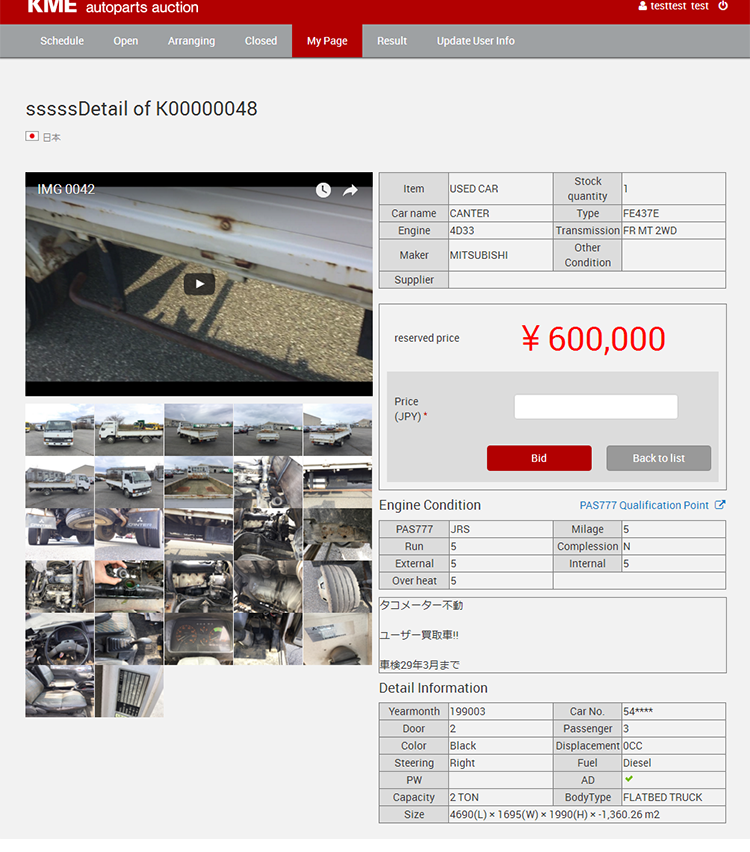 4.After bidding / Make full payment
You will receive automatic notification mail about your result after auction.
Please do not reply to automatic mail, but contact us if you have any questions .
Upon successful purchase of the trucks you bid on, we will issue an invoice asking for the full payment.
Successful bidder shall pay unit prices of the Products themselves and also "Sales Commission" and "Recycling Fee" at the time of purchase.
■ Sales Commission
(1) Small / Medium Size Truck ( less than 8 ton ) : 15,000 Yen + Consumption Tax (8%) = 16,200 Yen
(2) Large Size Truck ( more than 8 ton ) : 20,000 Yen + Consumption Tax (8%) = 21,600 Yen
■ Recycling Fee : 10,000 ~ 16,000 Yen
Recycling fees are determined on every car by individual truck manufacturers/ importers, depending on the possible quantity of shredder dust and CFCs, number of airbags and simplicity of taking off airbags.
※ Example )
Successful Bidding Price : 500,000 YEN (If this vehicle's recycling fee is 10,000 yen)
■ Your payment is the following ;
Successful Bidding Price + Consumption Tax (8% ) + Sales Commission + Recycling fee = Your Payment
500,000 Yen + 40,000 Yen (= 500,000 Yen × 8%) + 16,200 Yen + 10,000 Yen = 566,200 Yen
5.Get your vehicles
After receiving the payment, the supplier hands over the trucks and related documents.